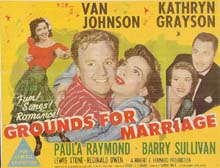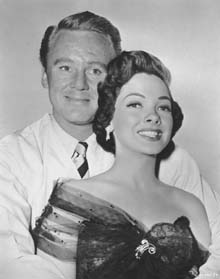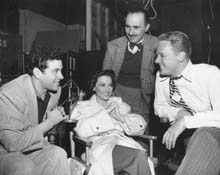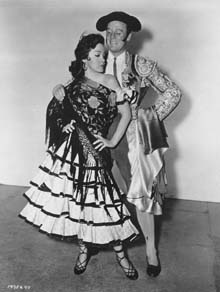 Grounds For Marriage
(1950)

Produced by
Samuel Marx

Directed by
Robert Z. Leonard

Written by
Allen Rivkin, Laura Kerr
Based on a story by
Samuel Marx

Cast
Van Johnson . Dr. Lincoln I. Bartlett
Kathryn Grayson . Ina Massine
Paula Raymond . Agnes Oglethorpe Young
Barry Sullivan . Chris Bartlett
Lewis Stone . Dr. Carleton Radwin Young
Reginald Owen . Mr. Delacorte
Richard Hageman . Dr. Engelstaat
Theresa Harris . Stella
Guy Rennie . Cab Driver
Richard Atckison . Randolphe' in 'La Boheme
Milton Cross . Narrator of the 'Carmen' Dream

Original Music by
Bronislau Kaper

Non-Original Music by
Bizet

Cinematography by
John Alton





This movie is not
commercially available.