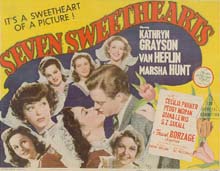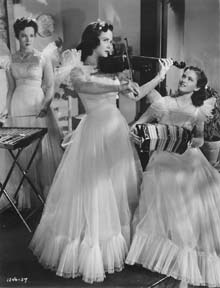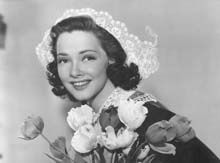 Seven Sweethearts
(1942)

Produced by
Joseph Pasternak

Directed by
Frank Borzage

Written by
Walter Reisch, Leo Townsend

Cast
Kathryn Grayson . Billie Van Maaster
Van Heflin . Henry Taggart
Marsha Hunt . Regina Van Maaster
Cecilia Parker . Victor Van Maaster
Peggy Moran . Albert Van Maaster
Diana Lewis . Mrs. Nugent (Newlywed)
S.Z. Sakall . Mr. Van Maaster
Isobel Elsom . Miss Abagail Robbins
Carl Esmond . Carl Randall
Louise Beavers . Petunia the Maid
Donald Meek . Rev. Howgan the Minister
Lewis Howard . Mr. Nugent (Newlywed)
Dorothy Morris . Peter Van Maaster
Frances Rafferty . George Van Maaster
Frances Raeburn . Cornelius Van Maaster
Michael Butler . Bernard
Cliff Danielson . Martin
William Roberts . Anthony
James Warren . Theodore
Dick Simmons . Paul

Original Music by
Walter Jurmann, Burton Lane, Franz Waxman

Cinematography by
George Folsey




This movie is not
commercially available.